The Forever Fever

by Scott Thomas Anderson


Originally published April 9, 2014 in Sierra Lodestar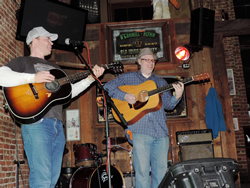 The blond creek canyons along California's Highway 49 have longed sparked awakenings in every type of artist; but perhaps none more so than the region's pickers, players and percussionists, a small group of whom started memorializing life in the Gold Country in the 1990s for towns and cities far beyond — all by probing meaning from the rough-rock, 'boom-and-bust' spirit of their existence.
  
Damon Wyckoff pulls his Gibson J-45 acoustic from a battered case as the century-old bricks around him are washed in a green, glaring light. A faded ball cap pulled down, a wayward toothpick grinding in his molars, Wyckoff moves his hand on the neck of the guitar, glancing up at factory rafters and welded relics from Sacramento's Gilded Age: It's an old building for California's capital, but in the eyes of a songwriter who grew up peaking into empty mineshafts of the Mother Lode, this pub's not as timeless as the hometown sources of Wyckoff's inspiration.

Tonight, the drafty, stone tunnel that houses The Fox and Goose bar is clamoring with a crowd. Wyckoff looks over at Mason DeMusey, his main songwriting partner in Forever Goldrush for the better part of 18 years. Both musicians grew up in Jackson; and seeing this Sacramento hotspot filled with men and women from Amador County, Wyckoff and DeMusey know they're part of a musical voice that has defined an entire generation in the land of tin roofs and tailing wheels. 
  
Wyckoff nods, hitting the first notes of their song, "Skeleton Keys." The reverberating guitar chords swipe bright and loud — a spacious, high-breathing rhythm that DeMusey fills with crisp, intense picking. Wyckoff's voice pushes though the microphone, that low, hardened tenor of the hills sharpened with a sonorous edge. The audience can hear those vocals make a yearning growl: "Wanna to come out / from the underground?"

Strangers' heads are quickly turning. The duo builds their song into a bold, striding swing before climaxing to a round of applause.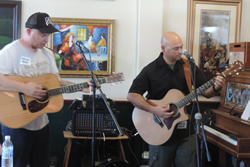 "Skeleton Keys" is a song off Forever Goldrush's 2011 release, "The Amador Frequency." The next piece Wyckoff and DeMusey turn to is "Shadow She Walks In," a tune that goes back to the beginning of their songwriting careers: With a saw-tooth sharpness to its rift and a backwoods brilliance in its melody, "Shadow She Walks In" was the final track on the band's first album, "Unknown Territory," a collection thoroughly bred from Wyckoff and DeMusey's childhoods. 

Wyckoff grew up in house in Jackson, with a single mom and steady stream of Neil Young and the Rolling Stones blasting on her stereo. DeMusey was raised in Argonaut Heights, often glancing out at a concrete dam that held toxic mine tailings. He was addicted to the Grateful Dead and Crosby, Stills and Nash. Both boys started playing guitar and bass, respectively, in their teens.

By the age of 19, Wyckoff was working on his own compositions infused with a hollowed-out, bare-knuckle beauty of rural life.

"For me, as a songwriter, Amador County was the driving force," Wyckoff remembers. "Walking through the hills to come across old mine shafts, or just waking up on a cloudy day to see the green, rolling hills — I always knew even when I was young it was special. And it's really that sense of place I've wanted to invoke audibly."

Wyckoff and DeMusey joined forces with guitarist Josh Lacey and mandolin player Whit Burton, creating the first incarnation of Forever Goldrush. The band played house parties in setting like Dead Doll Ranch, a hidden homestead behind Drytown with turkey vultures on its posts and weathered, eyeless baby dolls strewn on its barbed wire.

"It was a little wild back then," DeMusey reflects. "Those were real parties, with people drinking and jumping out of windows. I was still really young. I was just kid along for the ride." 

It was a hardscrabble existence, one in which DeMusey even found himself living for months in a makeshift camp inside a construction crater in downtown Sacramento.

But the hand-to-mouth life that defined so many of Amador's young, working poor was finding an edgy insignia in Forever Goldrush's first twenty songs — the rough and ready backbone of two albums that would carve a permanent address for the band in the history of the Mother Lode. Tunes such as "Songs Bottles are Broken To," "Vicious Ways" and "Sweet 65" were raucous, rockabilly anthems filed down with a jagged prison shiv. Other pieces, including "Still in the Water," "In My Rebuilding" and "Paint this Town Dry," were meditations drowned in whisky-warbled blood and poetry. And then there were the dark offerings, "Hard Yard In Fiddletown" and "Spaces in Between," which proved Wyckoff wasn't afraid to explore the most troubling corners of his neighborhood's psyche.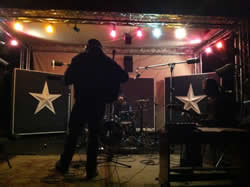 Forever Gold Rush was making a name for itself at ranch parties and at Sacramento nightclubs; but the story of how their first album got made was out of the pages of an Elmore Leonard novel. In 1998 a wealthy computer mogul who'd often come to the band's shows at the Capital Garage in Sacramento — jumping out of a limousine in his black tuxedo and top hat — offered to pay for the recording and distribution costs of "Unknown Territory."  
 
It was the breakthrough the guys had been waiting for. The album was released a year later, immediately garnering critical acclaim from the national magazine, No Depression. Glowing praises soon followed from the Chicago Sun-Times, the Sacramento Bee and Exclaim Magazine. Forever Goldrush was launched on a national playing tour.  

"It was huge for us," Wyckoff recalls. "The next thing we knew we were in Nashville, going to parties with Lucinda Williams, Ryan Adams and Hank Williams III … We'd be sitting around jamming with them on our guitars. It was truly surreal."

By this time Whit Burton had exited and Nate Gonzales had joined as the drummer. In 2000, Forever Goldrush was signed by Cargo Records, a label with divisions in both the United States in German. The band recorded their second album, "Halo In My Backpack," the same year.  "Halo's" songs were marked by the same brooding hint of bull's breath as "Unknown Territory," with just a little more grit and electric drive. Interest in the band's creative output was reaching a fevered pitch. They played The Great American Music Hall, San Francisco's oldest and most revered venue. Sound engineers who had worked with Johnny Cash wanted to record them. Producers who'd worked with Whiskey Town wanted in on their next album.

Wyckoff now admits he began to see fame in his headlights a little too soon.

As the band worked on songs for its new disc, Cargo Records closed the American wing of its company. Gonzales departed. Blockbuster shows descended into playing dim bars and seedy hotels. Potential deals with other record labels fell through, and Forever Goldrush's third album took almost a year to record — and then almost ten years to release. When it came out on Retroactive Records in 2011, fans were hearing a very different side of Wyckoff, Lacey and DeMusey.

"We called 'The Amador Frequency' cosmic, outlaw pop," Wyckoff explains with a chuckle. "We wanted it to be psychedelic, like Commander Cody meets Gram Parsons, or maybe Willie Nelson wearing a space helmet."

For DeMusey, the endless hours recording a genre without limitations remains one of his best memories.
"When it comes to the rewards of creativity and having the best artistic outlet, 'The Amador Frequency' has been my favorite experience," the bassist says. 

Now, as DeMusey and Wyckoff stand in front of the lively crowd at Fox and Goose, their acoustic duet turns to "You and Me," a song from the band's new album, "Chambers." Wyckoff acknowledges that "Chambers" is more in the style and spirit of Forever Goldrush's first two discs. It was recorded as a simple four-piece assemble, with Tony Cale on drums. Its acoustic guitar work is crisp. Its steel pedal slides are simmering. Its fat bass branding has a 'roots' religiosity.

With the lights beating down on them, Wyckoff and DeMusey kick off "You and Me." The audience hears its high-stepping stomp that cuts with vital vocal energy, culminating in the soaring chorus, "You and Me / We have leaned / About this world together/ Mountain lions and mountain tops." 

Smiling behind their guitars, the Forever Goldrush veterans can sense songs like "You and Me" are turning "Chambers" into a treasured hit with their longtime fans.  The album is as sonically deep as any collection from the band that has come before: The bold, ringing notes of tunes like "The Road," or the back-looking, brandy-soaked bounce of  "One for All," are pollinated by a new introspection and maturity Wyckoff has found moving into his mid-thirties.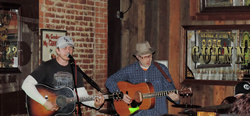 "To me, Amador County is always that image of a guy standing on Box Beach in blue jeans, holding a Marlboro and a beer; or maybe watching your neighbor's wife throw all his crap out onto the front yard," Wyckoff says. "Those were images in my early songs. Now, I'm trying to show more depth. I'm trying to find stories that take a turn. I'm watching the subtleties of the guy waiting for his unemployment check, or the people on disability or hooked on meds. It's all those struggles of every day life up here that I'm interested in now."

And judging from the constant emails and social media messages Forever Goldrush gets from listeners across the nation, there are plenty of people willing to continue the journey with them. Wyckoff can only smile when bar patrons at the Fox and Goose scream for "Songs Bottles are Broken To" some eighteen years after its release; or when he gets fan notes saying that "Sweet 65" is the best rockabilly song they've ever heard.

"Even when we disappeared for years, this band never really ended," Wyckoff says with a smirk. "Forever Goldrush just seems to go on and on."