About Scott Thomas Anderson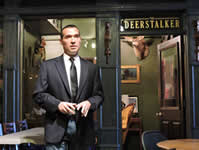 Scott Thomas Anderson is currently a staff reporter at The Sacramento News & Review, assigned to the State Capitol, City Hall and long-term investigations. He has written for publications such as The Roseville Press Tribune, The Real Edition.com and Sierra Lodestar magazine. He's worked as a foreign correspondent for Radio Kerry in Tralee, Ireland, and he's been published in The Irish Independent, Dublin's largest daily newspaper.
In 2008, Scott won the California Newspaper Publishers Association's highest honor for writing, followed by a second-place win for Investigative Journalism the following year. He has been interviewed about homicide investigations nationally on the Travel Channel, and internationally on Ireland's Radio 1: Drivetime.
Between May 2010 and October 2011, Scott spent 18 months as an embedded reporter with California law enforcement agencies, partnering with officers on night patrols, accompanying detectives on warrant searches and probation sweeps, observing SWAT operations and spending hundreds of hours with attorneys and victims' advocates in small-town courtrooms. During this time, he also traveled to different rural communities across the United States. The result was his nonfiction book, Shadow People: How Meth-driven Crime is Eating at the Heart of Rural America, an exploration of the nation's modern methamphetamine crisis.
In May of 2012, Scott won the California Newspaper Publishers Association's top award for governmental coverage for his six-part Ledger Dispatch series on the state's new criminal justice "Realignment" law. In April 2015, his newest nonfiction book was released, The Cutting Four-piece: Crime and Tragedy in an Era of Prison Overcrowding.
Contact Scott at standerson1@live.com.