White Knuckle Honeymoon
Originally published as "The Cowboy Life" on August 8, 2007 in The Ledger Dispatch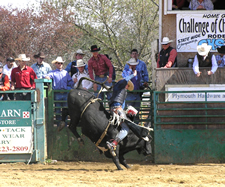 His name is Sugar Rapid — a broad, hulking monster of a bull with a reputation for thrashing cowboys into the dust. Black eyes, falling horns, he was bred from a line of demon-stock and genetic steel, and is known around rodeos as a hard-charging storm of havoc that can't be ridden for more than a terrifying flash. One gets the impression that Sugar Rapid likes it that way.

It's Saturday evening, July 28, and Sugar Rapid is thumping into a rusty bull-chute under the lights of the Amador County Fair. He stomps as someone puts a flank-strap on him, but then goes sinisterly dormant when the long-legged rider moves onto his back. A rodeo announcer tells the crowd that the man about to face Sugar Rapid is a local rookie. Applause sounds out across the arena. Before the rider can enjoy it Sugar Rapid erupts inside the chute. For an instant he becomes a twisted, flexing earthquake of muscle and grit. The other cowboys hold him; but it doesn't matter, Sugar Rapid's already sent his message to the man knuckling down on the loose skin of his hide: hometown hero or not, once that gate opens it won't be easy.

Twenty-three-year-old Matt Loftis learned that Sugar Rapid would be his bull hours before the rodeo got underway. Loftis simply tipped his dark, felt cowboy hat down, spit and hauled his gear over to the dusty chutes. He knew he had at least one thing in common with the notorious animal he was about to dance with — they were both spawned from generations who'd fought wars in the arena. Loftis' father, David, and his grandfather, the late Earl Loftis, were both accomplished bull riders. Growing up in Sutter Creek he'd heard all their hard-boiled rodeo stories; he knew just about everything that was bound to happen when bucking hard between the dirt and the lights.

Sugar Rapid didn't scare him.

"He's a good bull," Matt muttered, unpacking his chaps. "He came from a stock contractor named Jeff Davis, and all his bulls are tough."

Matt knew that for a fact. Two days before his wedding, Matt climbed onto a Jeff Davis bull at a rodeo in Chico and found himself in a serious melee. "That bull whipped me down bad," recalled Matt. "I got out on the end of my arm and he jerked me down on top of his head. When he was coming up, I was coming down and my chin met with his skull. Believe me, their heads are a lot harder than ours."

Two days later, Matt posed for his wedding pictures with his new wife, Juanita, complete with a dislocated jaw and nine stitches running through his chin. There was no doubt Juanita had married a cowboy.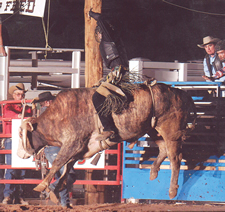 Bull riding is by far the most dangerous rodeo sport, accounting for 48.7 percent of all injuries per event, more than Steer Wrestling and Bareback and Saddle Bronc riding put together. According to Matt, the risk is outweighed by the pay off: not money, but the wind-born rush of hanging onto a mammoth — hearing a crowd roar as your pride and bone density hang in the balance. "I don't worry about getting hurt," Matt said. "It's a possibility of course, everybody knows that, but it's the last thing you want going through your head when you call for the gate. What I think about is the feeling that pumps through you when that chute opens. I was hooked since the first time. There's not another feeling like it in the world."

That feeling is what's brought Matt to rodeos up and down California during his rookie year. Amador County's event is put on by the California Cowboys Professional Rodeo Association, a relatively small rodeo circuit where cowboys can develop their skills before trying their luck in the nation's primary market, the Professional Rodeo Cowboys Association. Matt, who works by day as a carpenter, plans on continuing in the C.C.P.R.A. for the next two years. After that he hopes to stare down bulls under the biggest floodlights in the world. And at least one other man shares that dream for Matt. "A lot of bull riders this early in their careers don't have sponsors," Matt admitted. "I'm very fortunate to have Bud Marks in my corner. Without him I wouldn't be able to chase it as hard as I am right now."

Moments before Matt penned himself in with Sugar Rapid, he was hopping up and down in the dirt, rolling his shoulders with anticipation. Other bull riders perched idle on the fence looked on with blank expressions. A few steps on the iron the chute, a few punches of encouragement from the other cowboys, and Matt was on top of Sugar Rapid. Yet no one had any illusions about this beast whose black eyes and heavy breath were dominating the tense seconds of the countdown.

Sugar Rapid's known to have vicious little roll just out the gate, which he then thrusts into one titanic buck with all his force. It's rumor that after this initial move Sugar Rapid always goes right: the problem is, none of the bull riders at the Amador rodeo had actually seen someone make it past his first move. Recently, both the second and forth-ranked bull riders in the state had challenged Sugar Rapid, and, to this day, neither of them can say for sure what happens after the bull's first move.

"You have a deal with the bull you've got," Matt said before climbing into the chute. "Most people in the crowd think the bull riders are competing with each other. But the truth is you don't worry about the other riders because it's really between you and the bull. Once that gate opens, it's just the two of you."

And when the gate finally opened for Matt, snapping louder than a shotgun blast, it was just him and Sugar Rapid.

Sugar Rapid went into his typical death spin, but even quicker than Matt expected. The cowboy tried to re-set his feet. The animal made a full throwing turn into the well, collecting himself into a blur. Loftis' right leg popped loose, and then he had a nightmare on his hands, set in real-time.
The next thing Matt knew he was looking up at a Bull Fighter in bright shorts and Hawaiian shirt jumping in between him and Sugar Rapid's fury.

The bull had triumphed again.

Matt slowly trailed off toward the chutes and the rodeo announcer assured the disappointed crowd that their hometown rookie had lost to one the truly meanest bulls anywhere. "You got to give him a hand for having tried," he said. The crowd did.

Matt didn't have time to feel bad: he had to be on the road early the next morning for rodeo in Half Moon Bay. As he packed his gear up in the dust, a seasoned cowboy named Will Mackerracher said he thought the Matt was heading in the right direction. "Matt's paid his dues," Mackerracher observed, adjusting his sweaty hat. "He's been hurt, he's had his chin busted, he's been bucked off, and," Mackerracher smiled, "he's getting a ride, all right. But the important thing is that he keeps getting back on, he keeps riding. The only explanation for that is that he's got what it really takes — heart."