A Death in Syria
What drove one of Sacramento's best known activists to enlist in the Kurdish revolution?


Originally published on March 9, 2017 in
Sacramento News & Review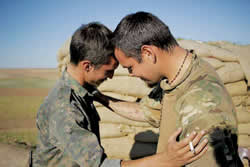 Mike Israel with a fellow YPG volunteer in Syria



The mourners carry banners of his face—long, glossy posters that accentuate his laughing blue eyes and big, mischievous grin. His hand is striking a peace sign, even as he wears the dusty camouflage fatigues of a Kurdish militia fighter.

A 737 pushes out of the clouds as friends of Michael Israel wait at the San Francisco International Airport. They know somewhere beyond the tarmacs his body is being unloaded. A few keep glancing at the banners: There's so much to read into his expression. For the gray-haired peaceniks huddling in their sweatshirts, that youthful face is proof the counterculture had strong, new blood.

To Sacramento's Wobblies, Brown Berets and Occupy resisters, it is a face that embodies physical action more than keyboard activism. And to the large group of Kurdish immigrants mustering in the lot, it is the face of an adopted son martyred in the name of a country that doesn't exist.

The hearse finally comes into view. The coffin inside has traveled 7,000 miles to get here. It was hauled by van through the blistered hills of Syria as villagers saluted it from the roadside. It was wrapped in Kurdish flags as it passed along barbed wire that went twisting through sand ahead of Iraqi checkpoints. It rested in the metallic tunnel of an airliner cargo hold as it flew over a sea and then an ocean. Now the mourners see that it's real. Some are scarcely breathing. Others choke on their tears.

For an instance, sheer relief to have him home puts all questions aside, but, of course, the questions are never far away.

Is this the soft-spoken teenager who skipped his high school graduation to walk across the nation for peace? Is this the protester who stood smiling in a downpour on behalf of teachers' pensions before he was old enough to buy a beer? Is this the labor crusader tossed into a paddy wagon with hands zip-tied behind his back for standing with minimum wage earners? Is this the suit-wearing union representative who made conference rooms his battleground as he negotiated for the working class?

For nearly a decade, the man in that coffin had been on a journey. But how did that journey end with him holding a machine gun and staring down the most feared terrorists on earth?
Two of US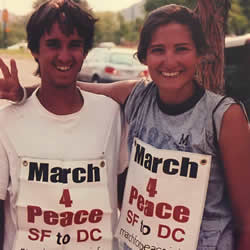 Ashley Casale and Mike Israel on their march
for peace in 2007.
Ashley Casale pulls her rental car into the funeral procession seconds before the hearse drifts off. Her flight from New York was delayed, forcing her to scramble with her 5-year-old son in tow. It's taken weeks for Casale to accept this moment is happening; but now that it is, she refuses to miss it.

Casale sees a line of vehicles decorated with Israel's face. At least he's smiling. She doesn't like most of the photographs taken of him in the Middle East: Flashes of her friend wearing tactical gear and holding an assault rifle don't fit her own memories. There is, however, one picture to emerge from Syria that lifts her spirits. It's Israel standing beside two young Kurdish boys on bicycles, all three smiling as they hold up peace signs. Despite Israel's worn combat uniform and the mortar-shattered huts in the background, the photo captures his coy, unassuming grin the way it looked when Casale first encountered it in 2007.

In those days Casale was a college freshman in Connecticut who was looking for a way to protest the war in Iraq. She and a group of activists had dreamed up the idea to march for peace across the entire Lower 48. Yet, the closer the date got, the more it looked as if Casale would be going it alone.

"All of my friends were really supportive, but none of them ended up coming with me," Casale recalls. "The only one brave enough to do it was Mike, someone I didn't even know until that moment."

Israel was a thin, mop-haired 18-year-old who'd grown up on a farm in Jackson, an hour east of Sacramento. To this day, Casale's not sure how the California boy first heard about her plans. She knows only that he was with her every step of the way.

The months that followed survive for Casale now in old photographs and seared mental images: The two of them throwing a pair of beaten-in shoes over the limbs of a shoe tree in Nevada; episodes of walking 40 miles between towns under the rising mountains of Colorado; the morning a smirking Israel let a Nebraska farmer wake Casale up by pouring water on her face. From feeding starving dogs to wandering through apple orchards, it's a journey Casale came to cherish as she grew into adulthood.

"Some of the older veterans in those small towns assumed we were making a statement against their military service," Casale remembers. "Mike could turn those conversations around so quickly. He made them realize we weren't against them. It was his sense of humor. It was the ease he had talking to them about beliefs we all had in common."

Casale and Israel walked into Washington, D.C., on September 11, 2007.
Red Pacifist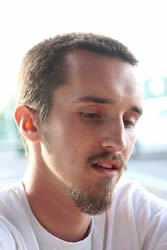 Mike Israel always returned
to his hometown.
Now, as the funeral procession moves onto U.S. Route 101, Casale prepares to hear what Israel's friends will be saying about the last eight years of his life. And maybe she'll find some of the missing puzzle pieces to how the gentle, anti-war kid she knew became part of one of the most effective fighting forces against ISIS in Syria.

"At the time of our march, Mike was more committed to peace," she says. "He was a pacifist. He would even steal selective service registration cards out of post offices we were going by."

One man who understands Israel's evolution is David Roddy. Israel and Roddy grew up together in Amador County, one of the most politically conservative regions in California.

The older the boys got, the more they saw things differently. The county's boom-and-bust economies of gold mining and lumber mills had mainly busted, leaving its cities and towns overwhelmed by poverty, alcoholism and meth addiction.

During a river rafting trip in the eighth grade, Israel overcame his lifelong shyness to start discussing social issues with Roddy. It was the start of an unbreakable bond — two ideological loners adrift in a community hostile to the equality fight they were hungering to start.

By high school, Israel and Roddy were reading about the World War I-era labor leaders who'd suffered a bloodletting to make union wages a reality. Their imaginations soaked in the figures of songwriter Joe Hill, executed in Utah on trumped-up murder charges, or Frank Little, lynched in Montana for organizing mine workers, or Big Bill Haywood, who led a fierce resistance against strike-breaking thugs.

"They were like characters out of the West," Roddy recalls. "Mike and I both saw a lot of poverty growing up in the hills. We started looking for different mechanisms from the past that people used to make their lives better. We were searching for ways communities could control their futures and not live in the kind of fear that we saw growing up."

Eventually Roddy and other friends of Israel moved to Sacramento for college. Though Israel practically lived at Roddy's house, he seemed constantly drawn back to the backwoods bonfires and honky-tonk bars of the Gold Country. These days, Roddy isn't surprised by Casale's stories of his friend getting flag-waving veterans from the Rust Belt to shake hands.

"We had this joke that if anyone could turn the red counties the other red, it was Mike," Roddy says. "He had a deep affinity for rural, working-class people. Mike could articulate a radical view of the world in a way that didn't go against the basic values of the people living around him."
Street Fight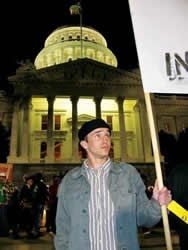 Mike Israel during the
Occupy demonstrations.
Dusk falls on the Bay. The funeral procession's string of headlights circuits into the freeway's wider illumination as Andee Sunderland waits for what's ahead. The Sacramento activist met Israel, fittingly enough, on May Day of 2013, when he attempted to throw a laborers' celebration in his stubbornly anti-union hometown.

"It was kind of a miserable failure," Sunderland offers with a smile. "But you could see how hard he was trying."

Israel had been living on the frontlines of Occupy Sacramento. In the face of corporate crime obliterating retirements and paralyzing the economy, crowds of demonstrators took to the streets on a scale that hadn't been witnessed in two generations. It seemed like the moment Roddy and Israel had been waiting for.

"Mike saw Occupy as something hopeful," Roddy observes. "It was looking for light in a world that could otherwise be very depressing."

Sacramento City Hall wasn't seeing that light. Then-Mayor Kevin Johnson supported police in pressing a confrontation with Occupy in October 2011. Israel was one of the 33 people arrested for refusing to leave Cesar Chavez Plaza. One of his friends in a wheelchair was even taken into custody. An effort from the city attorney to bury Occupy protesters in mounting court dates eventually took a toll.

"Once Occupy was brutally repressed by the police, there wasn't a new movement that was cropping up that made any progress," Sunderland says of Israel's frustration.

Soldiering through the disenchantment, Israel helped Sunderland, Roddy and others build the Sacramento chapter of Democratic Socialists of America. During late-night barbecues, Sunderland got used to Israel's playfulness — how he coaxed people into wrestling him or swung backyard-boxing gloves to the sound of toppling beer bottles.

Another person who cherished Israel's upbeat energy was Jaki Montañez, who met him through online video games. One evening the two were texting and Montañez mentioned how depressed she was that her then-boyfriend was living in Utah. She was quickly shocked to find that, without saying a word, Israel had bought her a $300 train ticket to Utah.

"All he said to me was, 'Just pay it forward,'" she recalls. "We wanted to reimburse him, but he didn't even want us to talk about it. He just said, 'Go enjoy yourself.' It was the most selfless thing anyone had ever done for me."

Montañez began hanging out with Israel and realized the gesture wasn't a one-off. When she was in bed for weeks with laryngitis she suddenly found a giant lavender plant on her porch, followed by a text from Israel explaining how to use its petals to make a tea for her throat. On another occasion, she mentioned that her mom was feeling down on Mother's Day, prompting Israel to send the matriarch a big bouquet of flowers.

"He did so many things like that," Montañez says.

Friends like Montañez and Sunderland were the first to notice a growing restlessness in Israel. At the height of Sacramento's Occupy movement, he'd become friends with an older woman experiencing homelessness.

When she died on the streets, it was a gnawing revelation.

"One night Mike was driving home and he started seeing her appear to him," Sunderland remembers. "He'd always seemed kind of haunted to me. … I think during Occupy he was really affected by the terrible things going on in the world."

For Israel, the decimation of America's working class was among those disturbing realities. When he and Roddy learned sawmill workers in Jackson were on strike, they volunteered for the picket line. Union organizer Jimmy Laughton was so impressed by Israel's tactical thinking around labor initiatives that, in early 2013, he drafted him into a more intense melee. Workers for the county of Amador were considering a vote to decertify their union. In a county where few jobs pay a livable wage, much was on the line. Laughton and longtime union representative Steve Wilinksy asked Israel to reach out to the younger employees.

They soon saw the makings of a brilliant organizer.

"Mike wasn't just trying to get the workers to vote a certain way," Wilinsky says. "What he really cared about was rebuilding a union that was worth their support."

The county workers decided not to decertify, which led to the Service Employees International Union offering Israel a full-time position as a representative. Good pay. Excellent benefits. Lifetime employment. It was a rare proposition for a 25-year-old.

Israel worked hard at the job. He was on a mission to be a strong voice for union employees. And then, four months in, he unexpectedly quit. One person who wasn't surprised was Sunderland, who knew Israel was coming to view SEIU as overly structured and too self-serving.

Wilinsky also agrees the job wasn't a great fit for someone as hard-charging as Israel.

"I think Mike felt like he woke up in a bureaucratic experiment where someone keeps turning the heat up on a frog until it boils, without it ever knowing what was happening," Wilinisky reflects. "What he found out about that job is that progress is extremely slow — and it's a pretty faceless approach to reform."
Last Flight to Rojava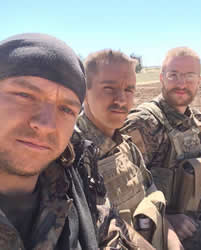 Mike Israel, center, with his Kurdish
militia unit in Rojava.
Holding a grenade in his hand, Israel approached the darkened doorway. Hours before, he'd left some pebbles balanced over a piece of sheet metal as a makeshift motion detector near the bottom of the stairs.

He and other members of his unit were on a rooftop, waiting to ambush ISIS fighters who might cross below in the night. The last thing they wanted was for one of the jihadis to sneak up on their group. Looking out at Syria's evening shadows, they had suddenly heard the terrible spit of pebbles sliding on metal. Who was coming up the stairs?

Very likely, Israel thought, the same kind of men who'd left that children's room for him to find near the Euphrates, with its cradle smeared in dried blood and its floor strewn with clumps of hair clinging to putrid flesh.

Israel took another step with the grenade, his friend following with an AK-47. His heart pounded inside his chest. And then it emerged from the blackness — a tiny, orphaned kitten.

If only every night could have ended that way.

Now, a group of Kurdish men lift Israel's coffin from the hearse as shadows turn through a business park in Lodi. More than 50 men, women and children from their community look on in silence. Montañez watches this scene, one that she wouldn't have envisioned in 2015, when Israel called her and asked to meet.

"He said, 'I have to tell you something really important,'" she recalls, "'It's going to change my life.'" Montanez sat in disbelief as Israel revealed he was leaving for Syria, where upward of 500,000 people have been killed and millions have been displaced by a 6-year-old civil war between an oppressive Assad regime and a fragmented constellation of rebel groups. He ultimately talked his stunned friend into driving him to the airport. She was the only person he told. When Roddy figured it out, the whole frightening picture came into focus.

In 2012 Israel met Delmer Berg, one of the last living survivors of the Abraham Lincoln Brigade, a volunteer force of Americans that fought in the Spanish Civil War. For Israel, meeting Berg brought a legacy of resistance to life. Later, when Berg passed away, Israel expressed his feelings in a social media post.

"RIP Del," Israel wrote. "You are history. You are legend."

Decades later, international fighting forces like the Abraham Lincoln Brigade had come back in fashion in the chaos of Syria's civil war. A group of long-repressed Kurds in Rojava started a new community based on treating men and women as equals and sharing wealth among all people. For leftists, the news was sharply tempered by knowing the community was under threat from the Islamic State. New international brigades were being formed to protect Rojava. And not just from ISIS, which approached the chaos in Syria as an opportunity to erect their distorted version of a caliphate. According to the German humanitarian group Cadus, which has provided aid in the Kurdish-governed parts of northern Syria, the area has been tattered by Syrian and Russian air forces, as well as the Turkish government to the north, which fears an independent Kurdish state.

In the past two years, Cadus says those competing interests have deliberately shelled hospitals and blocked entry of humanitarian aid, which means the Kurdish militias that U.S. forces regard as some of the most capable in combating ISIS are mired in a multifront war for their independence, as well as for the quickly fleeting hope of all of Syria.

By the time Israel's family and friends discovered he'd joined the Kurdish YPG, or People's Protection Unit, to defend Rojava, he was already in the thick of the fighting.

Israel later described what he'd walked into in a correspondence with Amador County writer Eric Winslow.

"I've seen old Kurdish men put on uniforms and pick up rifles because their children had been killed," Israel wrote. "I've known Arab fighters in the YPG who had scars on their backs from being whipped, or have had fingers cut off, from when ISIS conquered their villages. … I've seen entire villages and city neighborhoods left as rubble — the mass grave of the young women of a village who were executed for refusing to become the brides of ISIS fighters."

In the middle of the smoke and blood, Israel decided the dream of Rojava was real. He was especially impressed by the region's women, who'd formed their own fighting unit to battle alongside the YPG. The YPJ has liberated numerous female slaves of ISIS.

On an evening in mid-November 2015, Roddy was hosting a celebration in Sacramento for the anniversary of Joe Hill's death when Israel suddenly appeared.

"Everybody just rushed up to hug him," Roddy says. "He'd disappeared for some time on the front, and there was a lot of worry that he had died."

Israel didn't talk much about the minefields he'd run through, or the IED victims with missing arms and legs, or putting rotten bread in his mouth when he hadn't eaten for days. His memories of Rojava focused on the hospitality of its people, the "amazing" and "ferocious" armed women who refused to be possessions, the amber glow of its sunsets over the desert, drinking tea while watching scorpions, spiders and mantises fight under his flashlight.

"After he came back, anytime he referred to the Kurds, it was as 'us,'" Montañez says. "I think maybe he'd found a sense of belonging."

Israel began spending time at the California Kurdish Community Center near San Francisco. He was asked to be an honored speaker at one of its cultural festivals. Holding a microphone, he tried to put his feelings about Rojava into words. "I'm not a great speaker," he managed. "I'm not sure what to say, but it was a powerful experience."

What was that experience? Israel's writings suggest that in this corner of Syria he'd found a people lacking the luxury and comfort of the modern world, who were seizing on freedom to rebuild their society from the ground up. It was the best chance he'd ever seen for basic fairness and human dignity.

And then there was Israel's own country. He'd returned home in time to see Donald Trump take control of the Republican Party on a platform that was against everything he believed in. In March 2016, Israel learned that a planning commissioner in Calaveras County, near where he'd grown up, had called Mexican immigrants "an invasive species." Israel appeared in front of the Calaveras County Board of Supervisors the following week for public comment.

"When I speak to my friends [in Rojava], they say, 'Surely your community in America is not going to tolerate that,'" Israel told the supervisors. "For me, coming home the last few months, this is shameful."

By June, white separatists were holding a political demonstration at the state Capitol. Israel showed up to counterprotest, looking on stone-faced as skinheads clashed with the crowd, sending seven people to the hospital with stab wounds.

Two months later, Israel asked Sunderland for a ride to the airport. She felt her heart drop in her stomach. Panicked, she called Roddy, who rushed over to see his friend. Israel had made up his mind.

Several weeks later, Israel had an internet connection in Rojava and left a post on Facebook. He offered a photo of saffron grass and granite rocks running down a mount, rolling through thin cypresses and olive trees to the edge of mud huts under a gleaming sky.

"Someday my wish will be granted and I'll join a village like this," Israel wrote, "and spend my days chasing sheep across Syria's hills with my sheep-chasing stick and a tea kettle."

And then came the silence.

On the last week of November, Montañez was scrolling through Facebook and noticed a photograph of Israel with a long message written in Kurdish. She could barely breath. She didn't bother translating it. She just sank to the floor.

By that evening, Roddy, Sunderland and a handful of Israel's friends were sitting in a Midtown bar, hammering shots of whiskey as they cried at their table.

Casale, on the other side of the country, kept trying to tell herself it was someone else lying in the rubble.

In the coming days, the story slowly emerged from YPG reports. Turkish fighter jets continued to target not only ISIS militants in northern Syria, but also the very Kurdish units who were beating them back. Israel, along with a German YPG volunteer, was killed in an airstrike. A Voice of America story classified Israel as "an extremist." The 24-hour news cycle began referring to him as "an anarchist" rather than a democratic socialist. Journalists from national newspapers commented that his death seemed "random."

Within days the story faded altogether. Few in the media attempted to write the simplest truth about Israel — that he believed in a better world, and that the further his own country gave into cynicism and indifference, the further he walked into a crucible of violence where he could keep his own hope alive.
Those who loved him keep asking themselves why no one tells that story. The more they settle on an answer, the more they wonder what it says about the rest of us.

"David and I used to worry a lot about how much Mike was extending himself to people who were struggling — it always seemed like he never got enough sleep," Sunderland observes. "When he came back from Rojava the first time, it seemed like he had a clarity of purpose, but it also didn't seem like he was really back."

Montañez has similar flashbacks from her own final conversations with Israel. "I believe there was just an inner rage inside him that our country wasn't doing anything," she says. "The only thing Mike knew how to do was to try to do everything."

Today, when Roddy is asked what America looked like to Israel on the hour he walked away from it, the answer is strangled off by unexpected tears. "I think," he begins, fighting through a breath. "I think things I'm not going to say." A few seconds later, he adds, "I think in Rojava Mike saw the kind of future he could be content to die in. I know it's weird, because it's the bloodiest civil war on Earth, but that's where he finally found peace."