Blood on the Tracks
How detectives solved the riddle of Roseville's train-hopper murder


Originally published on October 5th, 2017 in
Sacramento News & Review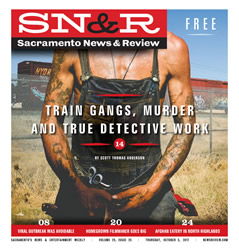 A member of the FTRA talks train life near
Roseville's switchyard. Photo by Karlos Rene Ayala
In mid-July, Josh Alpert wrote a letter about the death of his twin brother.

"I can't glance in the mirror without seeing him," Josh confessed. "And some days I even choose not to look in the mirror at all."

A week later, Josh's words were read aloud in a near empty courtroom hundreds of miles from where he and his twin grew up.

The letter was about a life extinguished at the age of 19. It was about John Alpert, an honors student who volunteered to feed the homeless; a vegetarian who'd ignore his diet to make things easier on friends; an upbeat pacifist who found most of his excitement in a world of books. Josh's testament stressed something else: His brother was a selfless caregiver. Both of their parents were disabled. Despite John's achievements, he'd volunteered to stay home and attend community college so he could look after them.

But John was a devoted son who was harboring a dream. He longed to travel, to see the world. A chance encounter on March 9, 2013, made him think that dream could actually happen.

John was riding his bike to the Barnes & Noble in his hometown of Palmdale when he spotted two men and two women standing in a field. He could tell that they were train-hoppers. It was a moment in John's life when he'd been immersing himself in Hermann Hesse's novel of self-discovery, Siddhartha. John walked into the bookstore and, as he would later tell his twin, suddenly had "an epiphany." He wanted to ask the vagabonds what they'd learned journeying across the countryside. He wanted to know how it felt to live day to day without the burden of material possessions. Perhaps most of all, John wanted to understand how people with little or no money, such as himself, could still experience the rapture of travel.

Josh can't know what the drifters thought of his brother approaching them. John was a teen of small stature, big curly hair and bigger smiles. The group had two mutts, and John loved animals. What Josh knows is that the next day John told their family that he was going to ride the rails with the group for a few weeks before restarting his classes. Their mom, Cecelia Alpert, was scared, but John told her it was a once-in-a-lifetime opportunity. He promised to call or text her every day.

John left Palmdale the following morning. His mother didn't know who these train-hoppers were, save for the first name of one girl, Laura.

For more than a week, John was true to his word, calling or texting as the freight cars rolled north through the Central Valley. But his mom never stopped worrying.

On March 17, John sent a text trying to put her mind at ease. He was on the outskirts of Roseville. He'd decided to come back. "I'm going to Nevada, then I'll take a bus and go home," his message read. "So please sleep." He also sent a note to Josh saying he'd see him soon, because he'd found what he was looking for.

John Alpert was never heard from again.

As Josh's letter was read in Placer Superior Court, a lone homicide detective sat listening in the back. He was part of a team that had spent two years working to make this day happen. They'd engaged in hundreds of hours of research and interviews. They'd written a dozen search warrants. They'd traveled throughout California and to towns in five different states. It was all to unwrap the enigma of John Alpert's disappearance. It was all so John's family would finally be heard.

That didn't make listening to Josh's letter any easier.

"Sometimes I awake screaming," Josh wrote, "but I don't have the comfort of him consoling me like when we were kids and shared a room."
The Call Out



A train-hopper sits near the Union Pacific
rail line near Roseville. Photo by Karlos Rene Ayala
Night was falling. Roseville police Detective Vince Dutto maneuvered through dusk-lit olive branches and hanging trees of heaven. Cars rushed across a bridge over the creek, their hollow hum echoing out to a platformed train-crossing, and the switchyard where freight wheels were slowly gliding on steel rails. Dutto saw a patrol officer, a division sergeant and two crime scene technicians standing on a broken sandbar. They were looking down at a body.

It was May 15, 2013.

Dutto walked through what was left of a searing heat. He could tell the corpse was in an advanced state of decay. The movement of the insects, the mummified dryness of its skin, the skeletonized remnants of its legs—it all suggested this was someone who'd been lying there for months. The sergeant said the body was discovered by a fisherman trekking along the water. Dutto took some photographs. The body was on its back with its arms spread open, as if looking up to hug the sky. A rotted piece of fabric was clinging to its femur.

Dutto started to process the scene in his mind. He knew this hidden underpass area was a regular camp for transients. He also understood that train-hoppers sometimes haunted the nearby rail yard. Their crossed, coded insignias were scrawled in black markers all along cement bridge braces.

"It looked suspicious," Dutto recalled. "But there were no obvious signs that said homicide."

A Placer County deputy coroner came stepping through the crackling oats. He put a toe-tag on the body's foot before collecting the corpse into a bag. The coroner filled out a label: John Doe, No. 35.

The next day, Dutto looked on as a Placer County pathologist attempted an autopsy. They didn't get far. The doctor was worried he'd ruin potential evidence by pulling or scraping dried tissue away from the bone. Per procedure, the remains were sent to Chico State's Human Identification Lab.

Six weeks later, Dutto got the call. A forensic dentist had identified John Doe, No. 35. He was John Alpert of Palmdale. Dutto called John's mother, Cecelia, the same day. He sat and listened to the baffling story of her son's disappearance.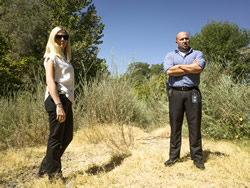 Investigators Mary Green and Vince Dutto stand at
where the body was found. Photo by Karlos Rene Ayala
Meanwhile, John's body had landed in front of a Chico State professor, Dr. Eric Bartelink, recognized by the FBI as part of the top forensic anthropologist team in California. Bartelink got past the mummification challenge by putting the remains in an aquarium full of dermestid beetles. Over time, the insects cleaned the dried flesh off the bones, leaving their exact condition apparent. Bartelink found hinge fractures on three of John's ribs, blunt force trauma to his lumbar vertebrae and fractures in his skull on the left and right nasal bones. He could tell all the breaks happened before or at the time of death. Specifically, Bartelink wrote, the injuries were consistent with the victim being kicked or stomped.

Dutto got the news a week after talking with John's mother. It was time for some conversations. He partnered up with another Roseville police detective, Mary Green, a relentless worker with an encyclopedic memory of case files. Dutto also met with Placer County Deputy District Attorney Doug Van Breemen, who was prosecuting one of his other homicide investigations. But even with Green and Van Breemen's help, Dutto recognized he was starting his probe with damn near nothing.

"I knew whoever John was with that day was going to be long gone, and could literally be anywhere in the country," Dutto said. "And I also knew because of the state of the body, our DNA options were low. I thought to myself, 'This is going to be really tough.'"
Killed by Ghosts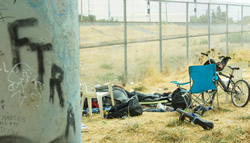 The Freight Train Riders of America, or
FTRA, leave their mark at a train-hopper
camp outside Roseville. Photo by Karlos Rene Ayala
On a hot afternoon, Roseville police Officer David Flood approached three train-hoppers squatting in a baked sea of grass and foxtails. One of the men was strapped into a pair of greasy overalls that clung to his bare, sun-bronzed chest. The young girl near his feet was pregnant. A grimy, thrashed T-shirt barely covered her belly as she rose from the camp clutter. A copy of William S. Burrough's novel Junkie laid next to an empty bottle of bourbon. Over by a broken fence, another rail-rider stood in the sun. A sweat-salted bandana hung under his Adam's apple. His pigtails were braided in loose, dirty ropes. Flood encountered groups like this all the time. The faces change. The look is the same.

It was August 2013, a week before news broke about John Alpert's murder.

Flood checked their ID cards: There was nothing suspicious about the rail-wanderers, but he planned to keep up his radar as he moved through the camps. Flood was one of the officers Dutto and Green had turned to for help.

Roseville is home to the second largest switchyard on the West Coast, a fact that had allowed Flood to spend years becoming an expert on the world of train-hoppers. He'd been in contact with so many, he'd even gotten a mention in their subculture Bible, a "secret" pamphlet known as "The Crew Change." Flood's fame was a testament to Roseville's place in the history of American train-hopping. And long before John Alpert's body was found, that history was a dark one.

In 1951, a rail-drifter named Lloyd Gomez started caving fellow riders' heads in with rocks in isolated pockets of train yards. The murder Gomez committed in Roseville led newspapers to dub him "The Jungle Killer." He was hunting the kind of post-Depression boxcar riders still associated with train-hopping in the public imagination: "hobos." Those weren't the modern riders that Flood met.

In his experience, most were high school runaways or college-age sojourners. Many were seeking freedom. Some were looking for escape. Calling themselves "the traveling community," they went from city to city, busking and begging and meeting up at music festivals.

Yet Flood also came across a different group on the rails—a malignant cadre of criminal drifters trying to stay off the grid. Running from warrants, preying on fellow transients, they existed on the hidden, empty margins. For them, train life was a matter of survival. That year, Flood tried to help the FBI track down two rail-riders who'd kidnapped and raped a woman in Texas. Flood had seen the suspects in Roseville a week before. After their victim was found, they faded into America's wide-open spaces—gone without a trace.

That was often the pattern. But Roseville police broke the pattern at least once in 2011, when they arrested a train-hopper named "Dirty Mike" Adams for beating to death a fellow transient near Union Pacific's property off PFE Road. Adams was a suspect in two other murders. He claimed to be "an enforcer" for the allegedly criminal gang Freight Train Riders of America, or FTRA. A decade before, another FTRA member, Robert Joseph Silveria Jr., had proved to be one of the worst murderers stalking American rails since the days of the Jungle Killer. Known as "Side Track," Silveria was convicted of four slayings in three states and implicated in 23 more. He was captured in Placer County in 1996, not far from Roseville.

Flood shared his knowledge of train-hoppers with Dutto and Green and kept his ear to the ground in transient camps. Meanwhile, Green, a meticulous researcher, was spending hours reading online rail-rider forums.

"They do things like cultivate body bugs, so if they're hiding drugs, patrol cops won't search them," Green said. "If they get a warrant in one state, they just won't go to that state anymore. They go around it."

Driving down to Palmdale, Dutto searched through footage on Barnes & Noble's security cameras. There was no sign of the four strangers. But the investigator did have one lead. When John vanished, his panicked mother went through his phone records. She started calling numbers. The girl named Laura eventually answered. According to Dutto, Laura wasn't just cold toward Cecelia, she was venomous. "He took off and he's probably fucking some hippie chick," she screamed at her. "I don't know where he is—leave me alone!"

There was something Laura didn't know. One of John's friends had been doing some detective work and discovered her Facebook page. It was, he said, under the name Scary Laura Rocks. He forwarded the link to Dutto. In the coming weeks, both Roseville detectives lived on that Facebook page. They explored its entire network. They followed every friend link, every photo tag. And then Green suddenly saw it—a picture of Laura standing at the crime scene. The creek, the bridge, the graffiti, it was unmistakable. Laura was posing with two men and a woman. One of the boys was thin with blond hair rough-cut into a mullet. He had small stars tattooed around his eyes. The other man was taller, his hair tossed, a face hardened for his age. The woman next to Laura was stout and burly. Careless dreadlocks sprouted over her broad shoulders.
"So, the question was, 'Who took the picture?'" Dutto said. "John Alpert took that picture."
The Wire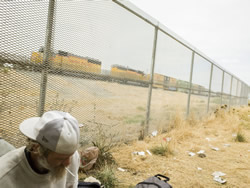 Train-hoppers move from rail yard to rail yard
across the U.S. Photo by Karlos Rene Ayala
Dutto and Green sat waiting in a parking lot in Farmington, New Mexico, watching a maroon Chevy van covered in rainbow stickers. They planned on surprising the girl named Laura, who they now knew as Laura Kenner. It was March 25, 2014.

The detectives had uncovered the identities of all four people photographed in the camp where John's body was discovered. The tall man was Jules Carrillo. The straw-haired drifter with stars inked on his brow was Edward Anauo, known on the rails as "Eddo." On social media, he called himself "Stil-Eddo." And then there was the strong-looking woman. She also had a nickname above the tramp fires: They called her "Aggro." Her real name was Charity Ann Williams.

Dutto and Green were waiting for Kenner to walk out of her job at Kmart. Dutto had already spoken to her on the phone. He'd written a warrant to get cell tower data on her number. It revealed that on the day John died, Kenner's phone tried to check the balance on a gift card that belonged to John. The detectives had locked down the numbers for all four suspects. They needed to make contact with one, but it was a gamble.

"We learned as much about them as we could, and then we debated how to mitigate our risks," Dutto remembered. "If we'd picked the wrong person, everybody stops talking, throws away their phones and gets off Facebook. It could burn the whole case."

When John first went dark, a Los Angles County sheriff's investigator left a voice message for Kenner about the disappearance. Kenner later called back, leaving that detective a drunken, rambling diatribe that amounted to nothing. That was the kind of reckless overconfidence that Dutto and Green were looking for.


Dutto dialed Kenner and let her talk for a while about how John had casually walked off from her group. He'd gone his own way, she said, she didn't know why he was a missing person. Halfway through the conversation Dutto told Kenner that they'd found John's body. He said her tone quickly changed. In the following minutes, Kenner altered her story three times about whether she was with John in Roseville. Then she admitted that she was, but emphasized John had left the camp with a different train-hopper named Reno Brian. Dutto mentioned to her that he was just waiting on some DNA evidence. There was a long pause on the other end of the line. "Well, I bit him," Kenner muttered.

"Really?" Dutto said. "Tell me about that." Kenner launched into a fourth version of events, one in which she and John had scuffled, she had bit John, and then John left the camp with Reno Brian.

After the conversation, Dutto and Green learned that the traveler known as Reno Brian had recently died in a train accident in New York. Conveniently, he couldn't be contacted. Search warrants also showed the detectives that, as soon as Dutto spoke with Kenner, phone activity exploded between her, Carrillo, Anauo and Williams. The investigators needed to know what the four of them were saying. That's when Van Breemen helped convince then-Roseville police Chief Daniel Hahn and Placer Superior Court Judge Charles Wachob to sign off on the highly unusual move of activating a wiretap.

Now, watching the afternoon sun over New Mexico's desert, Dutto and Green caught sight of their suspect. Kenner seemed shocked when they approached her. She didn't give up much. But as soon as Green and Dutto left, phones started ringing in three different states. And back in the Sacramento County sheriff's wire-room, officers were listening.



Laura Kenner
According to official court declarations, on March 25, Anauo called a female friend and told her that he was going down for murder. "You know, the one I told you about," he said. Anauo added that the cops had all the evidence and there was no way of getting around it.

Carrillo took the phone, stressing, "We gotta disappear with a fucking quickness."

The wire stayed hot. Court records show that on March 26 Carrillo got on the line with a different girl. During that conversation, he mentioned "some serious shit" that was forcing him to run. The girl asked if he killed someone. Carrillo said, "pretty much." Seconds later, Anauo's voice came through the receiver. The girl wanted to know the truth. Referring to his railway moniker, Anauo asked if she wanted him to be "Eddo honest." She said yes. "Jules and I buffed up, and that kid doesn't exist anymore," Anauo admitted. "So, I killed somebody."

"That's crazy," the girl stammered.

"Not really," Anauo was recorded saying. "I'd kill for you … like, you've heard me say that … I'm kind of a sociopath."
The End of the Line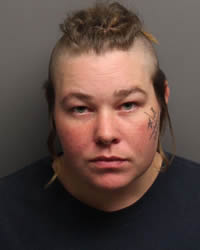 Charity "Aggro" Williams 
They came for Kenner first. It was late in the day when two Farmington police detectives grabbed her walking out of Kmart. Before the sun was down, SWAT operators had stormed a house in eastern Nebraska, taking Anauo and Carrillo at gunpoint.

Dutto and Green's plane touched down in Omaha the following night. They'd decided Green would take the lead in the interview room. In the coming hours and weeks, the story of what happened to John Alpert emerged through a series of fragmented confessions.

That day at Barnes & Nobles, they'd invited him to be their "fresh cut," an underground label for first-time train rider. Williams (Aggro) reportedly told John she'd take him under her wing. But later in the evening, John was struggling with his decision. "I'm at a crossroads and for the first time I'm scared," he wrote on Facebook.

John had steeled himself by the morning. "I need to do this," he told his mom.



The days went by—a cheap motel in the valley, scouting the rail yard in Bakersfield, hopping a freight car in Stockton. John's mom kept worrying. " It's safe, they're all my friends," he texted her.

Eventually the group walked off the rail line in Roseville, finding a creek where they could drink boxed wine, swim with their dogs and take pictures to post on Facebook. That day, Williams sent a Facebook message saying she was "in Roseville being amazing."

In the darkness by the campfire, John got upset and started crying. Dutto and Green believe he'd told the others he was going home and they'd started bullying him. What's discernible from official confessions is the group started yelling at the fresh cut to stop being "a pussy." Then a tussle happened between John and Kenner. The detectives think Kenner got aggressive with John, he defended himself, and then she bit him. What's known for sure is that the entire group attacked John, punching and kicking his chest. Carrillo would remember it in train-hopper lingo, saying they were "beating the brakes off him."

Worst of all, Williams, who'd been cooking by the flames, decided to get involved. Williams had recently done prison time for trying to stomp a transient to death in Kansas City. Court records allege she'd made comments about experiencing "bloodlust." Ever since, according to witness statements, she'd bragged about wearing black boots because they don't show blood. Now Williams joined the fray.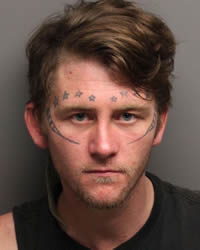 Edward "Eddo" Anauo
John soon was laying on the ground, battered and unrecognizable. He was still breathing. Williams and Anauo dragged him across the ground, pulling him away from the camp. Carrillo and Kenner thought it was over. They were getting ready to go to sleep when they heard it—Williams shouting that her "boots" were "going to end this." As John laid on his back, she stomped him to death.

The group stripped John's clothes off, burned his property and dug a shallow grave with a dog bowl. They took some gift cards out of his wallet and split them up. Williams kept the sleeping bag John had just bought. She washed her boots in the creek.

Van Breemen read the reports. He thought he had enough to charge Kenner, Carrillo and Anauo. However, co-defendants naming Williams as the main killer, without corroborating evidence, was not convincing enough. He told Dutto and Green he needed more.

As it turned out, the detectives had one last card to play. They'd learned during their investigation that the late Reno Brian—who Kenner first blamed for the murder—was beloved within the train-hopper community. He was remembered as a friendly, supportive person who'd always lend a helping hand. Kenner was caught on the wire saying she was "putting as much blame on Reno" as she could. Dutto and Green continued to interview rail-riders who knew their suspects, and now they revealed that the group had thrown Brian under the train wheels. Disgusted, witnesses came forward saying Williams told them about delivering John's death blow.

But Williams was starting to vanish. She was moving farther north. She almost always kept her phone powered down. One morning, she briefly turned her cell on for a call. In that instant, Roseville police used geo-tracking technology to learn that she was hiding in a field in Pierce County, Wash. A sheriff's deputy soon arrested Williams walking into a 7-Eleven to get a free hot dog.

During the summer of 2017, Williams, Anauo, Kenner and Carrillo all pleaded guilty to various charges connected to John's killing. Carrillo was sentenced to seven years in prison for assault with a deadly weapon. Kenner and Anauo were each sentenced to 11 years for voluntary manslaughter. Placer County probation reports indicate that only Carrillo expressed remorse about what happened, admitting to authorities that John Alpert was "a sweet little kid."

Williams, who Van Breemen called "the heavy" in his case, got 15 years to life for second degree murder.

Green was away on assignment July 27, 2017, when "Aggro" was sentenced. Dutto sat silently in the back row, listening to letters written by John's twin brother, his older brother, his mom and his grandmother. They all talked about the unforgettable life that was taken. And then Williams was led away.

"It's weird," Dutto told SN&R. "It's mixed feelings. You put so much time into an investigation, and some of the things you try work, and sometimes you also get lucky and ultimately you're able to try to do something for the family. But the reality is, you don't want to be here. At the end of day, you just wish none of this had ever happened."