Drinking to life: Rebels, death and beauty in the Irish Republic 
Originally published October 1, 2015 in The Granite Bay View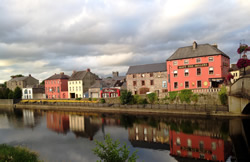 William Butler Yeats called it "the Celtic Twilight," a push to save Ireland's wandering, hearthside storytellers of the past, oracles casting spells of the imagination through the beauty of the land and allusions to war, oppression and hardship that's unfolded on its misty hills and pastures: Yeats coined the term 20 years before the last battle for Irish Independence would evolve such storytelling traditions into every element of the nation's artistry – giving the Emerald Isle some of the most evocative musicians, painters, writers and playwrights the 20th Century has ever known.

Today, many Irish storytellers quip that all Irish stories are sad stories, just as some singers claim all Irish songs are sad songs. Yet if the past is still alive in the country's breathtaking landscapes and creative achievements, then the future is even more alive in its peoples' energetic, unapologetic, slightly tipsy celebration of life.
In search of real Dubliners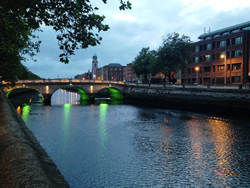 Sundown on Dublin's River Liffey, which splits residents
of Ireland's capital into self-identified north-bankers
and south-bankers. 
Musicians Eddie Valentine and Brendan Lynch face the crowd from a low stage at Fitzsimons pub, crimson light cascading from their shoulders to the brick walls and old wood barrels on the floor. Behind the duo a window looks out to the bustling streets of Dublin's Temple Bar neighborhood, and beyond dusk settles on the River Liffey, pulling shadows down faded Georgian building fronts that Yeats, James Joyce and Padraig Pearse all once ventured past at sunset.

Valentine and Lynch begin to perform the slow, wrenching ballad, "Dublin in the Rare Old Times." Picking luminous notes on his acoustic guitar, Valentine summons an urban chiming earthiness in his voice to sing out, "And the years have made me bitter / The gargle dims mee brain / Cause Dublin keeps on changing / And nothing seems the same." Lynch's fiddle follows along, its searing seesaw delicately crying against the melody – a sad, second voice of sweetness that goes razor-whistling between the words and the climbing guitar arpeggios. The song ends to a warm applause around the pub.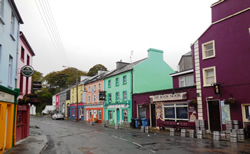 The small port town of Kinvara in Ireland is on the southeastern
corner of Galway Bay. It's an ideal stop when traveling across the
country fromDublin, heading to the island's west coast.
"Is anyone celebrating something tonight," Lynch asks the audience, holding his fiddle near his chin. Two young ladies from the U.S. start laughing. "You're celebrating something?" Lynch says, turning to them. The giggling persists as the two look up at the stage. "What are you celebrating?" The fiddler inquires. The girls shrug between hiccupped cackling. Lynch raises his eyebrows. "Being alive?" he asks. The smiling women eagerly nod. Holding the neck of his fiddle in one hand, Lynch lifts a pint of Guinness from a stool with the other to assure them, "Well, I'll drink to that."

Soon, the two musicians launch into Ireland's most popular drinking anthem. Patrons quickly hoist their heads and pints up, recognizing the reckless, double-stepping rhythm and the strumming chords drumming along to the chant, "Musha rain dum a doo, dum a da / Whack for my daddy, oh – whack for my daddy, oh" – and then the while crowd calls out, "There's whiskey in the jar!"  

"Of course, we spell whisky a little differently here in Ireland," Lynch tells the audience. "We spell it with an 'e.'  And if some of you are here for a few days, you might want to walk over to the Jamison Distillery. You just head down the street here, make a right at all of the drug addicts, and then turn left at the homeless shelter, and it's up the way by a pub called the Cobblestone, which is alright at night, if it's dark enough."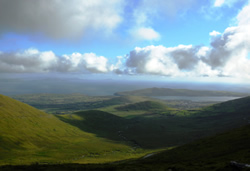 A view from one side of Conor Pass in County Kerry, Ireland.
A shot of Irish humor? Some ironic Gaelic honesty? Both ingredients are essential to the culture's "Craic," or connective conversation; and Lynch's remark hints at Dublin's conundrum of double-appearances so prevalent in the Temple Bar district. While Fitzsimons still hires Trad dancers and musicians like Lynch and Valentine, the tourists-swamped Temple Bar area is a Joycean mirage of Irish parody. At a glance it appears as the Dublin the world often pictures – a clutter of ornate green, yellow and red pub-fronts traced in bronze signatures and doused in lush, hanging flowers. But like New Orleans' infamous Bourbon Street, Dublin's Temple Bar is an over-hyped, overcrowded labyrinth of wasted partiers and automated arrivies more interested in post-vacation name-dropping than discovering the city's true essence.

To find what's left of "Dublin in the Rare Old Days," musicians like Lynch often point to O'Shea's Merchant pub on Lower Bridge Street. Dublin is split by the River Liffey, dividing its residents into proud north-bankers and staunch south-bankers. A nostalgic haven for south-side locals, O'Shea's riverfront establishment is a dim, lamp-illuminated shrine to Gaelic football heroes. It serves a thick bowl of downtrodden stew chalked with potatoes, carrots and juicy lamb chunks. Musicians hold traditional Irish "sessions" here, rousing instrumental endeavors that allow men and women from nearby streets to enjoy group set dancing. O'Shea's south-bankers are a laughing, smiling crowd who encourage visitors to jump into their fun, whether they know how to dance or not.     


Across the river, north-bankers can be found drinking at Brannigan's. Nearby to but hidden from chaotic O'Connell Street, Brannigan's is a sleek, ebony pub where Dublin musicians send visitors for a taste of the "keeping it real" half of the city. Its walls are decked in Old Hollywood-themed portraits. Simple, unpretentious food comes steaming out of its kitchen. The sight of smiling, wrinkled veterans of the city proves it's a watering hole to get a perfectly pulled pint of Guinness or to just follow men and women hauling guitars, fiddles, Uilleann pipes and button-accordions to its upstairs hideaway.

Tonight, Brannigan's is calm, O'Shea's is steady and Fitzsimons keeps its high energy continuing with Eddie Valentine and Brendan Lynch wowing their audience with a manic mastery of the fiddle-slasher, "Four Poster Bed." 

"We do have a CD here for sale," Valentine mentions across the contours of his guitar. "And folks, you should know that if you buy it, all the proceeds go to charity." Strumming a few notes, Valentine solemly adds, "It's a very special local charity that funds a study into the drinking habits of Dublin musicians."
From the rugged west to the seditious south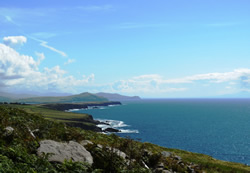 The coastline outside of Dingle Town in County Kerry.
It's been said the true magnetism of Ireland lies in its west, near the seaside cliffs at the far end of the Gaelic world: This is where, above the town of Dingle, you find the Republic's own rolling, wondrous shadowlands. Conor Pass rises as a splashing hill-scape of grass and slivered waterfalls – a swaying spine that gently dips under pearly clouds and dimpled, sheep-dotted runs of glistening grass. Its eastern slopes fall rough and wide toward Tralee, while low rock walls along its western bends stitch gliding grades into the tides of the Atlantic. Every direction of Conor Pass is calicoed in light and shade, brushed by passing clouds overhead that change the land from grey to spring-touched green.

Driving west of the pass brings travelers into Dingle Town. This narrow, pub-cluttered port opens into views of horse riders clanking along muddy mountain paths above, or taking steeds along quiet beaches below, sometimes leading the horses mane-deep into the ocean. Dingle's signs are written in Gaelic and its history is spelled out in crumbling stone monk domes and empty, thatch-roofed "famine houses." Dingle is a surviving piece of the remote, rural terrain whose imaginative "peasantry" inspired Yeats to write "Hope and Memory have one daughter and her name is Art." And art is thriving here, with the best Trad musicians in all of Ireland performing at the pubs, especially O'Flaherty's, O'Sullivan's Court House or the Gaelic-named An Droichead Beag. Dingle's captains will take visitors out whale-watching and dolphin-chatting, while sunrise offers a sky-lit drive along Kerry's coast, seeing lifted, grass-topped cliffs assaulted by crashing waves of white and piercing blue.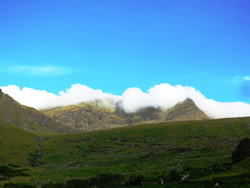 Mountains near the Gap of Dunloe in Ireland, not far from
the city of Killarny. These are the "far famed Kerry mountains"
mentioned in the Irish drinking song, "Whiskey in the Jar."  
Just 150 kilometers south of Dingle's coastline is the landmark town of Kinsale. This tucked-away harbor is the jewel of County Cork, infamously known throughout Ireland as "the Rebel County." From the Irish-supported Spanish Aramda landing of 1601 to Irish Republican Brotherhood retaliations of the 1920s, Kinsale and County Cork have been proverbial hotbeds of insurgent fighting against the English. The region gave birth to the gun-toting revolutionist Michael Collins, and it's also where, near Bealnamblath, he went down in a hail of hotly exchanged bullets in 1922.  

Today, the most fiery thing about Kinsale is the boundless creativity of its master seafood chefs. Restaurants like Fishy Fishy and Crackpots are major draws, but it is immersing one's self in the soulful singing and inebriation of Kinsale's pubs that offers the feeling of being a true "Cork man" or "Cork woman." The town's nightlife also holds onto a special genre of music known as Irish Rebel songs. Beyond contemplating whiskey, death and immigration, the nation's ballads draw on the many blood-lettings for independence to create a legacy of painful patriotic challenges in the form of music. Songs like "James Connolly," "The Foggy Dew" and "Come Out Ye Black and Tans" are enough to stir any visitor into feeling like an honorary member of the so-called "fightin' Irish."

One place you might hear such tunes is Kitty O Se's pub. With its ballooning Irish flag puffing down from the ceiling and vintage boat oars mounted on aged, weathered stone, Kitty O Se's is a jovial long hall where it's not uncommon to see men in sailors hats grab women off the barstools and pull them into a jig on the floor as everyone in the room erupts into a loud, Gaelic sing-along with the karaoke machine. 

'Rovin' through Kilkenny'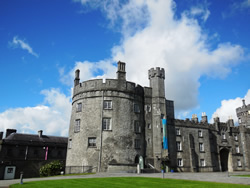 Looking at Kilkenny Castle from its rear courtyard.
Kilkenny – Ireland's Little Edinburgh – part medieval doorway, part Hibernian arts center, this bantam destination is an energetic crossroads brought to life by portrait galleries, manicured gardens and almost as many coffee houses as crowded pubs. The River Nore flows through the heart of Kilkenny, adding to the aesthetic created by its overlooking castle and its northern hill of businesses rolling up to a moss-laden Celtic cemetery.

Guests come to Kilkenny for the visual spectrum of timelessness. They come to see its poetic fountains and arboretums. They come to wander its 700 year-old cathedral, where Bishop Richard de Ledrede held one of Ireland's first witch trails in the 12th Century. They arrive to drink at the Kyteler Inn, with its dark, rain-beaten walls dating back to the same witch trail – stones directly connected to the burning of a woman named Petronilla, at the stake, in 1324.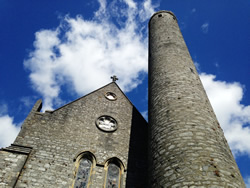 Visitors to St. Canice's Cathedral can climb to the top of
one of the monk-made medieval Irish "round towers."
Beyond Kilkenny's sights are its people, those careless conversationalists often smoking hand-rolled cigarettes at outdoor tables as they talk about art shows and international news. They're happy to chat with Americans and always glad to advise on dining options in a city holding its own within Europe's culinary scene. A common recommendation for dinner is Langton's. If there was an Irish film set for "The Phantom of the Opera" it would be the bar inside Langton's: At night this calm expanse of gold, copper and brass-plated tiles is aglow in candlelight, with the room's ornate steel vases and Victorian chandeliers creating a contemplative atmosphere to listen to live folk music or sample flights of beer from the Republic. It also serves some of the best "Black Pudding" on the island – that rustic staple of sausage made from oatmeal and pig's blood. At Langton's, the black pudding is a salty, moist mash of perfection, chalked with pepper punctuations and light charcoal nuances.

Langton's bar has musicians playing everything from Irish sea shanties to mournful songs of sailing away off the famine. On some nights you might even hear "Whiskey in the Jar," as the great city Langton's inhabits is featured in the song's climax:  "If anyone can aid me, 'tis my brother in the arm / if I can find his station in Cork or in Killarney / And if he'll go with me, we'll go rovin' through Kilkenny / And I'm sure he'll treat me better than my own a-sporting Jenny." And whether it's inside Langton's, or just streets away at the Kyteler's Inn or The Left Bank, the song's thumping, thriving chorus is usually echoing somewhere in the Kilkenny night, reminding travelers they're in a country that overcomes all obstacles with humor, intelligence, perseverance and courage overflowing beyond any golden ocean in a jar.