Long Flight Home
Originally published on February 22, 2012 in Sierra Lodestar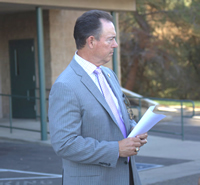 Special agent Martin Ryan could hear the tiny plane's engine droning against the clouds. Far below the jet stream ran the lush tree cover of Saskatchewan — and, seated a few away from Ryan, one of the deadliest serial killers in California's history. He stared at Charles Ng, the man who had helped kidnap and kill more than 17 men, women and children. Ng was hunched in a moss-colored jumpsuit. His wrists were bound, his ankles zipped in steal braces. Ryan looked down at a silver chain running between the cuffs that kept Ng's legs shackled. As the plane's engine strummed on, Ryan put his foot down on the chain, pinning it to the floor of the aircraft.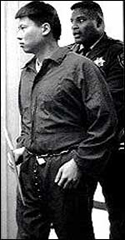 The nightmare began six years before in a parking lot in West San Francisco. Responding to a petty theft outside a lumberyard, police arrested Leonard Lake. He was a bald, brooding-eyed, barrel-chested man who spoke with supreme confidence. Lake was in possession of a missing man's identification, a different missing man's car and a gun with an illegal silencer. Officers brought him to San Francisco police headquarters for questioning. He was there only a brief spell before foam started pouring out of his mouth.

Lake had swallowed a cyanide capsule.

San Francisco police followed their dead suspect's identity 150 miles east to Wilseyville, Ca. They entered Lake's isolated property on Blue Mountain Road with Calaveras County Sheriff's detectives at their side. 

Meanwhile, special agent Martin Ryan was settling back into life in the Gold Country. Ryan was the son of an Amador County superior court judge and the grandson of a legendary Amador County Sheriff. He had recently been transferred from his assignment as Department of Justice agent in southern California to DOJ's headquarters in Sacramento. "I remember being in the office and hearing a call come out for seven or eight body bags in Calaveras County," Ryan says, thinking back to the case that would define his career. "I was living in Jackson at the time, and I had no idea what a huge undertaking I was about to get involved with."

The Department of Justice sent Ryan and other agents up to Wilseyville. Their mobile crime lab was soon processing human remains being pulled from ditch lines along the rocky woods and walls of Manzanita. The mind-numbing forensic work indicated the Blue Mountain address was the site of as many as 17 murders.

Leonard Lake's diary, and a series of homemade videos, constituted a uniquely Californian horror story: He and Charles Ng had been kidnapping men, women and children for at least two years, holding most prisoner for a time before finally slaying them.

Ryan and a brigade of detectives from San Francisco and Calaveras were confronted with unraveling the mystery of the victims' identities, as well as how each came to be ensnared in the mountainous bunker. "Hundreds of people had to be interviewed in different parts of the state," Ryan recalls. "We had to trace all of the various relationships that connected the victims to Lake and Ng. I think what ended up making the case so striking, and so challenging, was how diverse their victims really were. They came from all walks of life. They ranged from prostitutes to a used car salesman, to a member of the Guardian Angels, to a middle class family that ran a videotaping business. There wasn't really a common threat, other than killing for Lake's financial gain, and his fantasies — and picking victims according to what opportunities fell in front of them."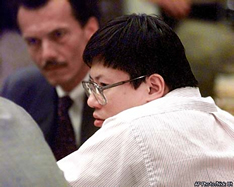 Nearly one year to the day that Leonard Lake swallowed his cyanide, Charles Ng was arrested in Alberta, Canada, after he shot a security guard during a botched shoplifting spree. Knowing Ng was in chains was limited comfort to the detectives who were chasing him: The Canadian government had a strict policy of not extraditing criminals to the U.S. if the suspect was facing the death penalty.



Ryan was named Chief of the Department of Justice Task Force on the Leonard Lake and Charles Ng homicides. His main task now was linking the chain of events that had brought each murder victim to their final moments in Wilseyville. Ryan's team eventually brought 17 cases to the Canadian High Court in 1988. The court only recognized 12 of these murder counts as potential grounds for extradition. Twelve was hard to swallow; but detectives and prosecutors would have to live with it. They had to get Ng in their custody. None of them could forget the deck of victim photographs included two small, smiling babies.


In 1989 Ryan and the U.S. Marshals flew to Saskatchewan to get their hands on Charles Ng. It was about to be one disappointing trip. After arriving, Ryan learned that a Canadian Minister of Justice ruled Ng could only be extradited to California if authorities promised not to charge him with capital punishment. The Americans went home empty-handed.

Not all Canadians were thrilled to be holding a man like Ng on a four-year prison sentence — a sentence he could potentially be released from. A growing unrest began to smolder. Would Canada be a new haven for serial killers from below their border?


In 1991, the Canadian Supreme Court decided to turn Ng over.

Ryan and several U.S. Marshals loaded onto a small plane bound for Saskatchewan. Its wheels touched down on September 26, 1991, and Ryan's team headed straight for the prison. Though flanked by supportive Canadian Mounties, Ryan was still haunted by the thought his mission would fall apart at any moment. "We didn't know if there was going to be a last minute legal appeal," He remembers. "We'd already been there before, and we'd had it shut down on us. We were worried it would happen again."

The prison warden soon handed Ryan a certificate that declared he'd been temporarily "appointed and commissioned as an honorary inmate of Saskatchewan Penitentiary" in order to be on its grounds. Once the marshals brought Ng outside, the team hustled him into the plane and shut the door. And then Ryan sat across from the killer he'd been hunting for more than six years. He knew that guards inside the prison had confiscated drawings Ng had been making, which portrayed specific sexual torture he'd engaged in with female victims, as well as new fantasies of killing a number of San Francisco police detectives who had worked on his case. The drawings made it clear Ng dreamed of getting even with the men who had pursued him.

Staring at Ng over the loud, humming engine, Ryan dropped his foot down on the chain between the killer's ankles. Ng never spoke a word. As the plane left Canadian airspace, Ryan realized that his part of the chase was coming to an end.


"I don't think I actually felt a sense of closure until years later, when the trial ended," Ryan admits. "It was probably during his sentencing, when family members of all of his victims finally had the opportunity to speak for themselves, and tell the court about how his crimes had affected them." 
Ng was sentenced to death. He is currently imprisoned on death row at San Quentin.